Brella
---

Overview
Life is busy. Between work, your family and staying active in the community, you have a lot of things occupying your mind. You shouldn't have to worry about your money being safe from fraud. With Brella®, you can live your life knowing your accounts are looked after.
Brella® helps you protect your debit card by sending you alerts when your card is used so you can quickly detect unauthorized or fraudulent activity on your account.
Users have the option to receive alerts via text or email. You can also check your account balance anytime, turn your card off and on and find nearby ATMs.
Alerts are provided for:
Purchases exceeding thresholds as defined by you
Card-not-present purchases
Suspicious or high-risk transactions
With this app, you have the ability to define when, where and how your debit card can be used. Users can set blocks for:
Transactions exceeding a specific dollar amount
Internet and phone transactions
Transactions conducted outside of the U.S.
Turn your Debit Card On or Off
This control can be used to disable a lost or stolen card, prevent fraudulent activity and control spending.
More Great Features
Users can check their balance without logging into the app with the Quick Balance feature
Users can choose to enable Touch ID, a secure and quick way to sign on with your fingerprint so you don't have to type in a password
---
Brella APP
Keep a close eye on your debit card by downloading the Brella Mobile App.

Simply load your debit card into this app when you register, then you can set alerts, set blocks based on certain criteria, find ATMs, and see your account balance. Plus, you can turn your card off or on if you misplace your card.

Login is super easy with fingerprint access and you can even see your balance without logging in.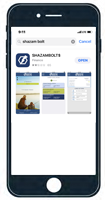 ---
Important Phone Numbers
Lost or Stolen Cards: Apple River State Bank Warren Office (815) 745-2194 or First Community Bank of Galena: (815) 777-6300
Lost or Stolen Cards (After Hours): (800) 383-8000
Report a Dispute: 815-745-2194
Your Debit Card Fraud Prevention Service
Protecting your debit card and your funds is our top priority. We're constantly monitoring your account – we'll send you a text alert if suspicious activity is ever detected on your Debit Card. If you receive a test alert from us, make sure to reply Yes or No to confirm or deny the activity. Please save these numbers to your contact so you don't miss any alerts:

Text message alerts from: 72718
Automated phone calls from: 855.219.5399
---
Inform Us When You Travel
If you plan to travel outside your normal area, travel outside the U.S., or make online foreign purchases, please complete our Travel Notification Form below.

Alternatively, you may call (815) 745-2194 or (815) 777-6300 or electronically complete and email our Travel Notification Form and or download and complete our Travel Notification Form and drop it off at one of our six locations.

Please allow 24 - 48 hours for Apple River State Bank Travel Notices to be issued.

If you need a travel notice issued immediately, please call Apple River State Bank Fraud Operations at (815) 745-2194 and ask for Bobbie Schubert or Laura Busch and provide the card information requested in the table below.

When completing the Travel Notification Form double check the accuracy of the card numbers you enter on this form to ensure Apple River State Bank can implement your request in a timely manner. Enter the cardholder's name as it appears on the card, the last four digits of the card number, the start and end dates for travel, and the travel states and countries.
Travel Notification Form
Please provide a separate Travel Notification for each cardholder traveling.